Building a lean-to carport is a wonderful idea for people who don't have a garage on their estate and want to protect their cars parked exposed to the elements. In such situations, lean-to carports act as protective shelters for cars while also doubling up to enhance value to the home. Carports can be made in different styles using a variety of materials, each affordable and easy to install. In fact, building a lean-to carport is usually taken up as a DIY project.
Types of carports:
There are three major types of carports. They are:
Lean-to carport: Building this kind of carport is perhaps the easiest of them all, and protects your car from inclement weather. Additionally, this structure demands only very few materials and can be done quickly. It is ideally suited for small or narrow plots or if you build it near the compound wall.
Attached carport: This type of carport is very much like a lean-to carport, though it is attached to the main house or an existing building. This is time-saving and enhances the value of your garden. It also makes entering your house easier.
Gable carport plans: Building a gable carport is a direct and no-nonsense job though it might call for a bigger investment than the other two. This carport can be widened so that two or more cars can be parked comfortably.
Free standing: If you want this kind of lean to carport, it will stand independent from the main building and have its own four corners. Though it will be built against an existing building, it will not take any support from it.
This type of shed is nice to have. It is small enough to house a lawn mower and a few gardening tools. Its large front doors are the entry and exit points of this structure.
Studio or home office: If you want to build a private room for a study or an office in your backyard, make it in the design of a lean-to shed. You can improvise the basic structure by adding siding, a glass door or windows and smarten its total look.
Take a look at some interesting shed plans here:
Benefits of lean-to carports
Adding a lean-to carport to your home could give you these advantages:
Cost-effective: Building a lean-to carport is relatively inexpensive as compared to building a separate garage. It is also a better alternative to the traditional garage, besides there isn't any construction tangle involved. Further, by buying a kit, you can save a lot of money.
It protects your cars and belongings from bad weather: The reason why a lean-to carport is built is to protect it from inclement weather. Its roofing prevents any snow or ice formation, so there's less to remove too. 
Easy set-up and installation: The simple design of a lean-to carport enables it to be set up by the DIY method or by hiring a professional. You also have several options in materials, such as metal, wood, etc.
Prevents acid from ruining your car: Rain water contains acid that could corrode your expensive car, forcing you to take it to a garage for expensive repair work. However, by parking it in a lean-to garage, you rule out this possibility.
Storage space for several items: You needn't only park your car in your lean-to shed but also various other items, such as RV covers, dog barns, tools, woodworking rooms, hobby rooms, offices, etc.
How to build a lean-to carport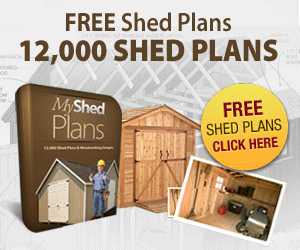 Step-by-step procedure: You can hire a professional to take up this job or do it yourself. By following the instructions very carefully and using the right carpentry tools, you can build a neat lean-to shed that could be very useful to you. If you build a lean-to carport, it means you have a narrow backyard.
Preparing for the construction
Read about building codes: Before launching into this, familiarize yourself with the building codes of your city. Since legal requirements vary from place to place, check that you have everything needed in place. You will also need a permit to build, so ensure you know what the mandatory depth of the footings allowed are and the permitted materials.
Buy all the building materials: With your lean-to carport design in place, it's time you bought the necessary building materials and construction tools. Your tool kit should comprise the following:
4×4 pressure treated lumber
2×4 pressure treated lumber
1×4 fascia and rake trim
2×4 rafter
1/2″ plywood
Plywood
Drill
Paint
Circular saw
Hammer
Pre-fabricated door
Door hinge and lock
Measuring tape
Nails and screws
Woodworking clamps
Asphalt shingle roofing
In case you don't have pressure treated lumber, use wood preservatives which will make your wooden structure extremely durable. Oil-borne preservatives are preferable since they fight termites.
Steps to build your own lean-to carport
Pick the best spot: Choose the spot you want to build on. Check that it does not contain any obstructions such as rocks, garbage bins, poles, plants, etc. At this stage, you also need to be sure that you have a workflow plan in place which contains a step-by-step procedure of how you're going to proceed.
Measure the area you need: Check the dimensions of your plan and measure them accurately. Mark them out and cut them using a saw. Now's the time for you to set your saw at 90̊ ֯ to your work surface. Just so that you aren't confused by the number of pieces, name each one and set them in groups so that you know which one to pick up when.
Prepare your carport's base: If your plank is ready, get it out now and put it against the wall. It should ideally measure 6 feet × 4 feet. Fix in some screws and then measure four feet from the first plank. Now, set the second plank and again measure 6 feet x 4×4 feet. Connect these two parallel planks by using as many planks of 2 feet x 4 feet so that you can get the base of your lean-to carport ready.
Get the vertical framework ready: Take a piece of wood measuring 2 feet x 4 feet and put it in the corner of the shed's base. Check that it's perpendicular with the ground and tie it firmly to the base. Repeat this for all the vertical wood pieces you have. Remember to stick strictly to your design and work within it. The vertical frames you have already set near the wall should be longer than those four feet away.
Set the roof: It's now time to set the roof. For this, it's essential to install a wooden frame just above the vertical posts. Set it in place with nails. Now, set the rafters measuring 2 feet x 4 feet along with the joists and set them in place with nails too on the horizontal frames. To get the facade ready, fit the plank that measures one foot x four feet on the front. To cover the shed, use asphalt shingle roofing.
Fix plywood on the inner sides: Put in plywood on the sides for those parts near the wall. Set the plywood in line with the vertical frames that are adjacent to the wall fix them with screws. Use plywood for the rest of the shed and lastly, fix the hinges on the door and set up the pre-fab door.
Sand it down for a good finish: Your new lean-to carport now needs a smooth finish, so it's time to sand the surface and remove any irregularities or blemishes in the wood. Take a small rug and clean the surface of the wood with it. Apply a few coats of wood paint or varnish. Once it dries, your lean-to carport is ready to be used.
Suggestion for wood
The best wood for creating lean-to carports is treated pine. In its absence, any other kind of lumber will do well.
Tips:
Make sliding doors: Swinging doors are harder to make than sliding doors because the latter needn't be sturdy or even stiff. Plus, you cut out the expense of hinges, thereby enabling easier installation. After a few years of use, swinging doors may sag, but not sliding doors.
Think of construction materials other than wood: Perhaps you want your lean-to shed to look distinctive. You might prefer to go with a rustic look for which stained wood is perfect. If you want to give your carport a coat of paint, why not try some durable materials, apart from wood? They are:
Fibre cement: This is cheaper than wood, doesn't rot and holds paint far longer than wood. This makes it a good option to wood.
Composite trim: This trim is made from plastic resins and wood fibre. It can be shaped with a router, or cut and nailed, like any wood.
Conclusion
With a plan in hand and the right tools and materials, you can construct your very own lean-to carport over the weekend in the style and colors you choose.
References:
http://www.doityourself.com/stry/how-to-add-gutters-to-a-carport-roof
http://www.abcdesignshomes.com/benefits-for-adding-a-carport-to-a-home/
http://www.hometips.com/diy-how-to/leanto-shed-build.html