A wooden structure when added to an existing structure like a house, is called a lean-to shed. It leans on to the wall of the existing building and has its own sloping roof, hence the name. Such sheds are used as storage areas for garden tools, sports kits and compact outdoor furniture. At times, homeowners also accommodate other things like tools and construction materials. As with other structures, building a lean-to shed also demands proper planning, using the right tools, high quality materials and expertise in this area. Here's a guide on how to build a lean to shed.
Planning a lean-to shed: To succeed in any project demands proper planning and so it is with a lean-to shed too. Without proper planning you can never get it right. You will need to conceptualize your shed, design it, make a sketch of it and work towards achieving it. The design should encompass the size of the structure, the materials required, the angle of slope of the rooftop and the location of the door. At this stage, accurate dimensions of the shed should be added to the sketch.
Take a look at some great shed plans here:
Get together all the building materials: Once you've decided on a shed design, your next step is to buy the necessary building tools and materials. With the help of the sketch, calculate the materials you will need. Usually, they would include the following:
4×4 pressure treated lumber
2×4 pressure treated lumber
T1-11 plywood
1/2″ CDX plywood
Asphalt shingle roofing
1×4 fascia and rake trim
2×4 rafter
Pre-fabricated door
Door hinge and lock
Measuring tape
Nails and screws
Woodworking clamps
Drill
Paint
Circular saw
Hammer
If you don't have pressure treated lumber, substitute it with wood preservatives to make your wooden structure as durable as possible. You can choose to go with oil-borne preservatives since they fight termites.
How to build a lean to shed: Identify the spot for the site of the lean-to and check for any objects here to be removed, such as flower pots, rocks, plants, garbage bins, etc. Ensure you have a workflow plan that details the step-by-step procedure for the construction of your lean-to shed.
Cut the parts you need: Get started on building your lean-to shed by checking the dimensions in the sketch. Measure these parts accurately, mark them and cut them. Set your saw's cutting blade at 90 degrees to your work piece's surface. Name each of these pieces and arrange them according to their sizes and role, if only to be easily identified.
Assembling the base: Get your 6×4 feet long plank out and set it against the wall. Secure it with screws. Measure a distance of four feet from the first plank and set the second one, measuring 6 feet x 4×4 feet. Link up these two parallel planks by using as many 2 feet x 4 feet planks to form the base of the shed.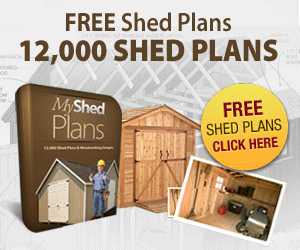 Make the vertical framework: Take a 2 feet x 4 feet wood piece and set it in the base of a corner of the shed. Ensure that it is perpendicular to the ground by using a level and nail it securely to the base. Keep doing this for all the vertical wooden supports, taking your design into account. However, make sure that the vertical frames you set near the wall and longer than those that are at a distance of four feet.
Fitting the roof: To set the roof, fit a horizontal wooden frame above the vertical posts and position it with nails. On the horizontal frames, set the 2 feetx4 feet rafters and joists and position them too with nails. Now, it's time to fit the one foot x four feet fascia on the facade. Lastly, use asphalt shingle roofing as cover of the shed. 
Fix the side plywood: Use good quality plywood for parts near the wall. Place the plywood in line with the vertical frames next to the wall and ensure it is tightly secured with screws. Lastly, hinge the door and put in place the pre-fabricated door.
Give a smooth finish: Give the shed a smooth finish by sanding it and removing all blemishes the wood may have. Using a rug, clean the structure's surface and apply many layers of paint or wood varnish. Once dry, your new lean-to shed can be used.
Design Styles: This form of construction is the easiest as the roof is built using beams that are laid from side to side. There are two ways of building a lean-to shed. Here they are:
Attached to an existing structure or fence: You can keep your shed extremely simple by holding up the roof on its rear side against another structure, say your house. This will bring down your construction costs besides also keeping your yard space open and clear. You can also enclose the walls of your shed that are attached to the house or existing structure.
Free standing: If a free standing lean-to shed is what you want, it will not be attached to the main building but will have four corners of its own. It may be built against an existing structure but will not lean against it for support.
A free standing shed is good to have in any part of your yard. The size of this shed is small enough to accommodate a lawn mower and some gardening tools which cannot be kept in the garage. It has large front doors to allow entry and exit to and from the entire interior.
Studio or modern office: If you're constructing a study or backyard office, you will perhaps construct it in the style of a lean-to shed. By adding a glass door, siding or windows, you can give it a smart look so that it doesn't look like just another shed.
Advantages
A lean-to shed is the easiest to construct since wood is so versatile.
It takes care of any storage space you might need.
It can also enhance the look of your home. These sheds are by far the best in appearance where sheds go.
Home owners can easily construct a lean-to shed with some basic experience in woodworking.
With experience in creating lean-to sheds, you can make a business of creating and selling them.
There's a lot of need for good woodworking skills and expertise. If your needs demand the creation of a lean-to shed, space isn't all you need, it's also imagination.
Apart from a lean-to shed, you can build a variety of different types of shed like garden storage shed, outdoor storage shed, or a simple wood shed with the help of My Shed Plans.

References:
http://www.doityourself.com/stry/build-a-leanto-shed
http://www.hometips.com/diy-how-to/leanto-shed-build.html